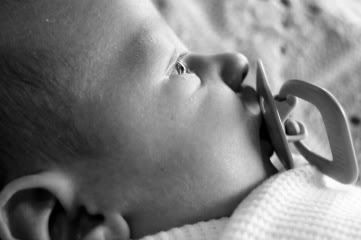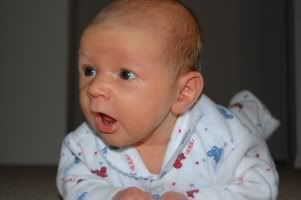 OMG, can you believe my little man is already 4 weeks old! I am kinda in shock, it feels like only yesterday he was born.
Besides one teary two nights ago everything here is fantastic, the feeding is going well. We still have to top him up but not as much, he is a fantastic feeder on both breast and bottle so at least we know he wont starve for the next 5-6 months. I still would have liked to exclusively breastfeed (hence the teary a few nights ago) but it is looking unlikey.
I got my new Camera, we got the Nikon in the end and I loooove it. I have taken so many pics of Anna and Ryan already. Anna is at that age where she likes having her photo taken and the new camera brings out the best in her already amazing eyes. She had her little boyfriend over yesterday and I snapped them kissing, will post that pic next time LOL.
Hubby is back to work in a few days, something we are both dredding.
Sorry Anthea, have to agree with Stu on the boy clothes, I used to think there was not much out there for boys....I suppose there still isn;t compared to girl stuff but there is certainly some trendy stuff out there for boys, but not so much for this age. Everything seems to be powder blue at this age. The 000 stuff is all very cool but that wont be fitting Ryan for some time yet. I have had some awesome stuff handed down to us that I can;t wait for him to fit into. Scrapbooking gear and manchester is a whole new story though!!!
Well it certainly is a frosty old morning here, thinking of everyone on thier long runs today that is for sure. OMG hubby just came back from walking the dog and he said there is ice on everyones roof. We were lucky enough to be kept up all night by the party across the road last night, we camped out in the loungeroom but it was still really load, they had a Karioke machine and were doing thier best to kill every song they attempted. Lucky for me it's Sunday and a pot of good quality tea is definately on the cards.