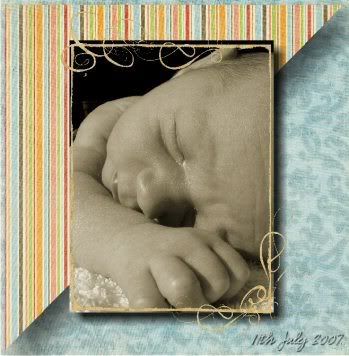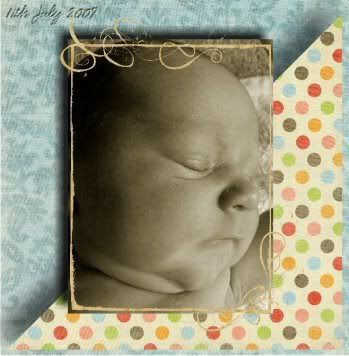 (
LO made with "Festival" Kit from Shabbyprincess)
OMG, my little man is 3 weeks old today ALREADY.......AAAGGGGGHHHHHHH. Things are going great, he is such a beautiful baby and family life is wonderful. He is a very hungry baby and feeds pretty much 3 hourly around the clock so hubby and I are very very tired. I am still breast and bottle feeding and it is going well. Ryan gained 240gms last week.
No-one is going to believe me but he has rolled from his front to back 5 or 6 times. It is very odd and annoying when I am trying to give him infant massage or take photos of him.
I went for my fist walk this Tuesday, I felt every step in my pelvis but it still felt great to be out and mobile. I only had Ryan in the pram, would hate to think how sore my pelvis would have been with my boofa little girl in there too LOL. In general my pelvis is doing much better though, I think I am ready for the exercise bike, I just have to watch what little milk supply I have.
Thankyou everyone for the congratulations and kind words. This is such an exciting time for us and we are enjoying it so much though hubby is a little grumpy at Ryans night feeding habbits, anyone would think it was him sitting with his boozies out in the middle of the night LOL.
We are going away in a few months for Grandfinal weekend, I am so excited as we have not been away since May last year. We are going with other familys so it is gonna be great for Anna. I am very excited about the whole thing, we never did anything when Anna was a tiny baby but nothing is gonna stop us this time LOL.
Well that's it, Poppy is being very very cute right now so this post is taking FOREVER LOL.